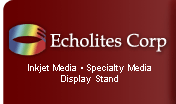 Bamboo Display Products ( Details)

Environment protection starts here. Let's go green.

Bamboo is one of the fastest growing plants in the world. As the phenomenon of Global warming, Environmental Degradation become more serious year by year. Bamboo will be a good replacement of many materials such as Aluminum, Steel, Plastics, Glass fiber, Wood and so on. It is also highly reusable and recyclable.

After years of research and development, our bamboo display products become successfully free from Corrosion, Mould and Moth. The products have been tested in various rough weather conditions in Asia and Europe. Patents have been applied for in China, European Union, and America.

All our carrying cases or bags for bamboo displays are made of either 100% cotton canvas or bamboo sheets.

The competitive prices of our Bamboo display products will not only help you save money but also save the Earth.



© 2006 Ecolites Corp, Inc. All rights reserved.